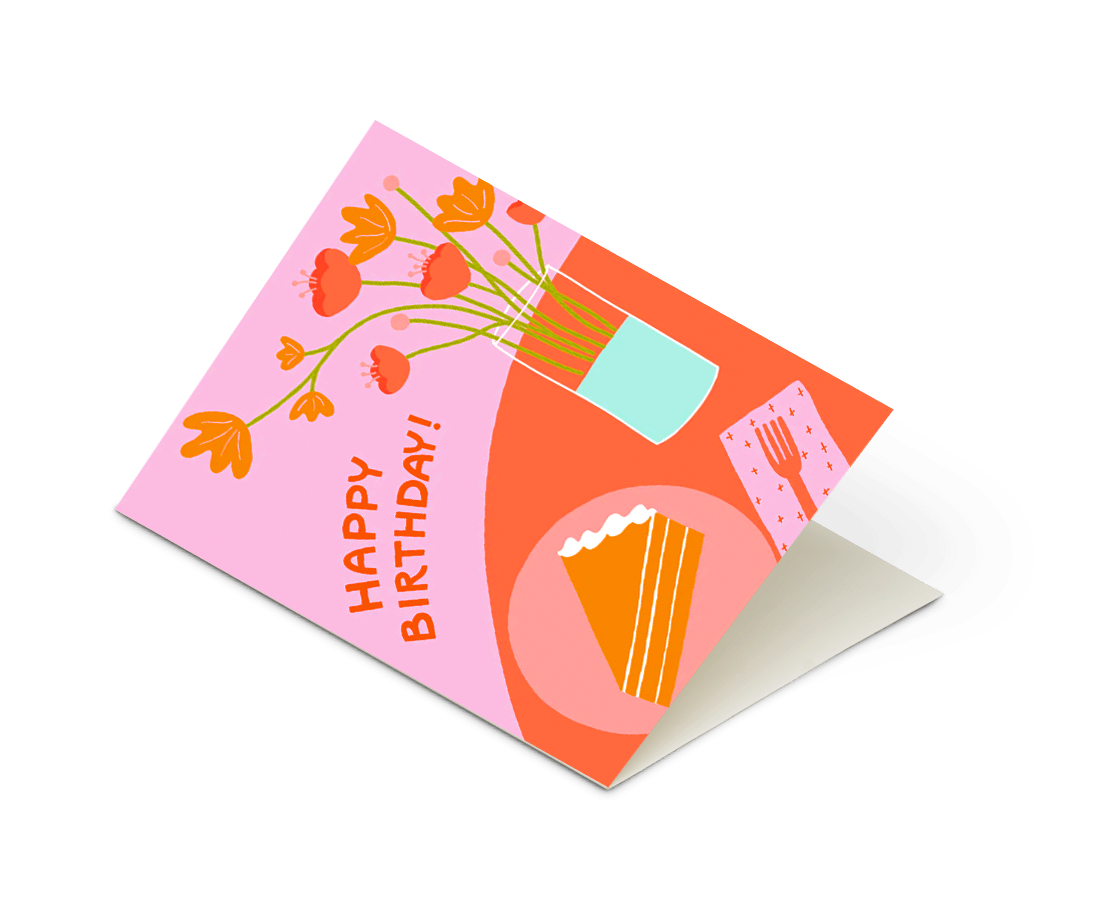 Odd Daughter - 'Happy Birthday Cake' Card
Have us post a greeting card directly to a recipient with your message handwritten inside.
Real cards, posted for you.
Have us handwrite your message in the card, handwrite the address on the envelope and post it directly to your recipient.
Description

"HAPPY BIRTHDAY"

Offset print on recycled paper
Matching envelope

Designed and made in USA.
About the designer

Since I was a kid, I've enjoyed drawing and lettering. I remember getting a book about how to draw cool letters, and thinking it was pretty amazing (I mean, it taught you how to write "tools" with letters MADE OF tools!!) Needless to say, I hand lettered cards for allll occasions but never realized illustration was a thing until after I graduated with a degree in Interior Design. Such is life, right? Well, it turns out, you can teach yourself a lot of things! I'm now happily illustrating and hand lettering cards + prints for my shop, Odd Daughter. [Odd what, you ask? My mom's maiden name was Evenson, and in middle school she was pegged with the nickname "Odd Daughter." Even Son... Odd Daughter... get it?! eh eh?? So that's where it came from.] I live in New Mexico and when I'm not thinking about all things Odd Daughter, I'm instagramming photos of cactus.
Dimensions

A2 size card. 10.9 x 0 x 14 cm (4.25" x 5.5")
Free postage

Postage for up to 3 standard greeting cards to a single address is AU$1.20 within Australia. If you wish to post a greeting card along with any other items (excluding Gift Certificates and eGift Cards) then shipping costs apply.

Sending multiple cards?
Please place seperate orders with seperate shipping addresses and messages. One order per delivery address.

Greeting card delivery times
Western Australia: 2 - 4 business days.
Interstate: 3 - 6 business days.

In Store Pick Up
It's free to pick up your order from our Fremantle store, and it's generally ready within 10 minutes. We offer free gift wrapping in store.
Browse greeting cards by occasion: