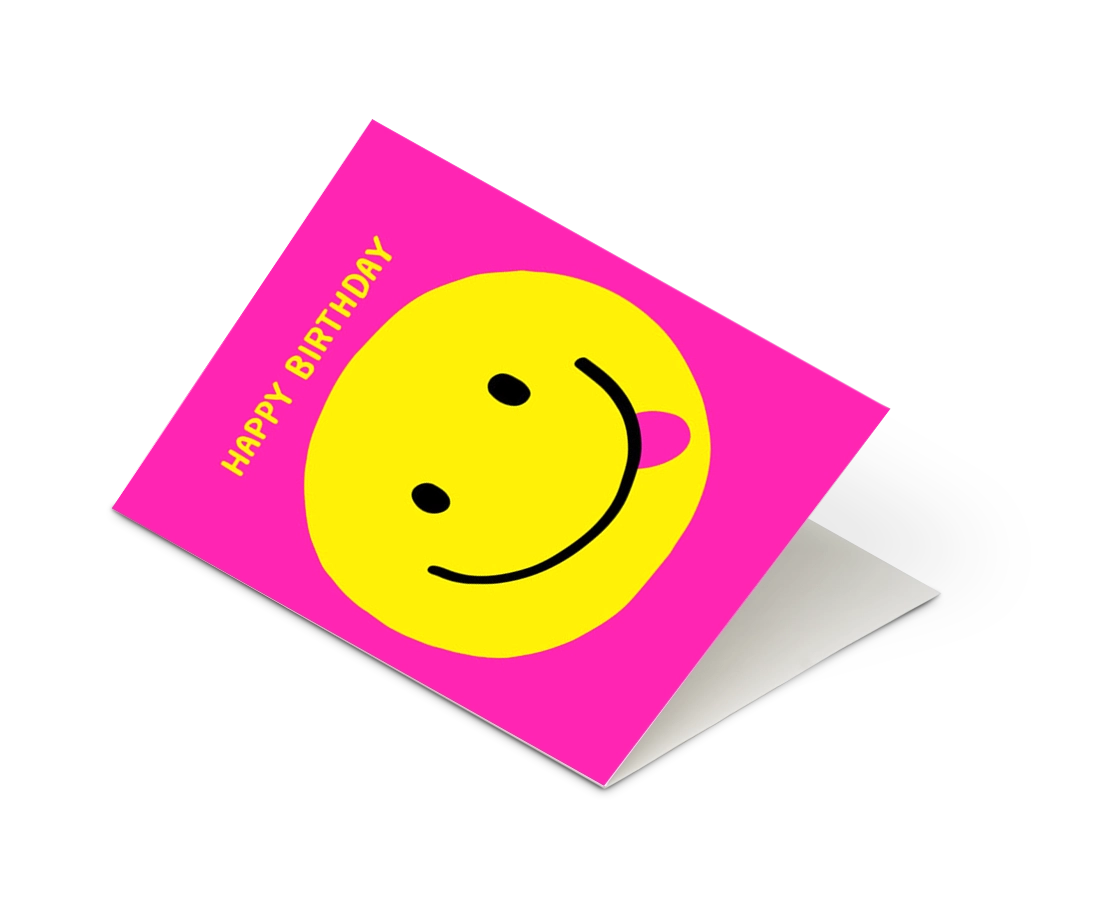 Ashkahn - 'Happy Birthday (Face)' Card
Have us post a greeting card directly to a recipient with your message handwritten inside.
Real cards, posted for you.
Have us handwrite your message in the card, handwrite the address on the envelope and post it directly to your recipient.
Description

Happy Birthday (Face)

Single card and envelope
Blank inside
Printed on cotton paper. Comes with Ashkahn's trademark fluorescent pink envelope.

Get excited for a loved one's special day with the enthusiastic Happy Birthday Day Pattern Greeting Card from LA designer, Ashkahn.

Designed and made in the U.S.A.
About the designer

ASHKAHN (pronounced ash-con) is the studio & company of artist, designer, illustrator, art director, director, stationery prince and all around bon vivant, Ashkahn Shahparnia. Ashkahn lives in Silver Lake, California and works in Downtown Los Angeles. He loves bananas, poopheads, coconuts, burritos, 1985 300d mercedes, BORING, beer, gold, silver, centerfolds, neon, pastels, open bars, los angeles, tiki drinks, slackers and blah blah blah blah blah blah blah blah to name a few. Ashkahn has been featured in Interview Magazine, Paper Magazine,The New York Times & Taschen to name a few. In 2011 he was nominated by Print Magazine's prestigious Top 20 Under 30.
Dimensions

A2 size card (4.25" x 5.5")
Free postage

Postage for up to 3 standard greeting cards to a single address is AU$1.20 within Australia. If you wish to post a greeting card along with any other items (excluding Gift Certificates and eGift Cards) then shipping costs apply.

Sending multiple cards?
Please place seperate orders with seperate shipping addresses and messages. One order per delivery address.

Greeting card delivery times
Western Australia: 2 - 4 business days.
Interstate: 3 - 6 business days.

In Store Pick Up
It's free to pick up your order from our Fremantle store, and it's generally ready within 10 minutes. We offer free gift wrapping in store.
Browse greeting cards by occasion: